Guys I'm so excited I can hardly stand it! A few months ago I stumbled upon
Trial by Sapphire
and was instantly hooked. Lindsay is smart, funny, kind, beautiful and inspirational. Today she's sharing her experience as a CASA. Don't know what a CASA is? Keep reading...
****
Hello, Two Hoots and a Holler readers! My name is Lindsay, and I'm the dame behind
Trial By Sapphire
, a lifestyle blog about
lessons learned
,
balancing my life as a modern hippie
,
volunteerism
, and
how awesome life is
. I don't have a niche really, but I'm having fun documenting how I live the best life for me. Come on over, and let's have some fun, yes? Yes.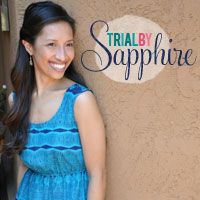 "You can't live a perfect day without doing something
for someone who will never be able to repay you."
-- John Wooden
I am so excited that Mae invited me over to share my experience as a Court Appointed Special Advocate (CASA)! A long-term volunteer opportunity like this is very complex, but today, I want to give you the basics and share a bit about my experience. It may be something you're interested in!
WHAT: Court Appointed Special Advocate (CASA)
A CASA is an adult who is assigned to a foster child in the juvenile dependency system. It is the CASA's responsibility to objectively gather information from key players in the child's life (foster parents, teachers, relatives, biological parents, sport instructors, etc.) and advocate for the best permanent plan.
WHO: An adult with an open heart and time to dedicate to a foster child and juvenile court processes.
Due to the confidential nature of this volunteer work, a CASA must be responsible, thorough, compassionate, open-minded, diligent, and available to visit with the case child 2-4 times per month. (That can be as little as 4 hours per month!)
WHERE: Anywhere in the United States!
You can search for the CASA program in your area
HERE
.
WHEN: Anytime.
Organizations that interview, screen, and train CASAs have information and training sessions throughout the year. Similar to starting a job working with children, CASAs must pass a background check and be finger printed. Due to the rotation of training sessions, I had four months from applying to starting training.
WHY: There are thousands of children in the system who really need the help of an advocate.
We all remember how difficult those younger years were, but imagine being moved from home to home, school to school, never knowing if you'll be adopted or just age out of the system at 18. Their situations are complex, and having an adult who can decipher all the moving parts and simply be a voice for them means that they know they are noticed, heard, and loved.
With my training buddy, Barbara, at CASA Graduation 2009


MY STORY (extremely abridged!):
My first "big kid" volunteer job was working as an aide in a preschool for Autistic children when I was 16. After that, every volunteer job I pursued was focused on children. As I got older, I knew I wanted to be a CASA, but I was waiting until I knew I had the time and energy to dedicate to it.
I was a CASA with
Voices For Children
(VFC) in San Diego, CA, from November 2009 to October 2011. I was assigned to a bright two-year-old who I will call Joy. She was born to two very young parents who were not on speaking terms and in some trouble with the law.
During my time as her CASA, I came to know her foster parents (also her relatives), her aunts, her biological parents, her daycare provider, and her preschool teachers. They enriched my life in unexpected ways and taught me more about who I want to be as a mother one day. I was reminded how fortunate I was to have the childhood that I did, but I also learned that love thrives in all places, not just for "picture perfect" families. Joy and I would talk about Elmo, her friends at school, cupcake parties, Tinkerbell, and her trips to SeaWorld. She excelled in preschool. She loved to tell people: "You're beautiful."
Appearing in juvenile dependency court is less stressful than it sounds. I attended three court hearings which required three court reports (all reviewed and approved by my VFC program supervisor). Court hearings include only a small group, and it's all behind closed doors. Due to her young age, Joy attended few hearings.
Being a CASA stirred new levels of emotions in me. My
heart broke
for Joy when her father was fatally shot. I was
angry
when her mom didn't show up for a scheduled visit. I was
frustrated
when I sat in an important meeting listening to people discuss who should have custody of her and why. I
worried
that I wouldn't be permitted to stay on her case until the end when I found out I was moving to Texas. (Luckily, I did get to stay on the case for the remaining four months and checked in via phone!) But it wasn't all negative, not even close. I felt
loved
when Joy thanked me for things. I felt
successful
when I overcame a few toddler melt-downs. I felt
infinitely proud
when
she was adopted
by her relatives who now have full custody of her (and thank me for my hard work every single time I talk to them).
I was a busy CASA. I worked a full-time job, did two musical productions, sang for a few other gigs, got married, maintained family and social life, and moved my married life to another state! But it was all worth it.
For the sake of confidentiality, I cannot tell you names or show you pictures. In fact, we never took pictures together. I only have her school photos. In two months, Joy will be five years old. As she gets older and starts to understand how her life is "different" from her friends', I hope she will also understand how loved she is and that
her past doesn't dictate her future.
And just like she tells
me
when we talk on the phone,
I hope she knows that she is beautiful.
If you have any questions about my time as a CASA, please feel free to comment below or e-mail me at
Lindsay@TrialBySapphire.com
. Mae, thank you for letting me share such an important life experience of mine on your blog today!
****
Lindsay, you are amazing! Thank you for sharing your experience!!!
Now go give Lindsay some love!
Mae