1) Erin from
Living in Yellow
took over my blog for the day. Click
here
to see gloriously awkward moments behind a typical "fashion post."Too good.
2) Meatloaf (as in
THE MEATLOAF
) released his new record, "Hell in a Handbasket" today... and Sean has 3 songs on it, including one written with the one and only
Wade Bowen
. Needless to say we've got a lot of Meat playing in our house right now. "Not a Dry Eye in the House"... "I Would Do Anything for Love"... come on... Rock
ICON
. You can read my husband's take on this glorious event
HERE.
3) I got a ton of free books delivered TO MY DOOR... more on that later. But let's just say I now own a vintage textbook called "The Complete Guide to Sewing" Reader's Digest style. It has vintage pictures and amazing colors. I'm seriously smitten.
4) I got wildflower seeds in my
"distraction"
gift today. YES! I hereby declare that these will be planted by the end of the week! Thanks Mom!
5) Lastly, the weather was fantastic and I took a walk around my neighborhood in my mc hammer pants and 80's sunglasses... not on purpose... it's just what I happened to have on. Perhaps working from home has had a slight impact on my wardrobe.
Enjoy your evening folks... and if you're new 'round these parts introduce yourself. I want to meet you :)
P.S. I'm linking up with
Living in Yellow
and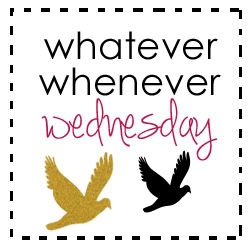 You should too :)