I'm on Day 4 of the
30 Day Challenge
and so far it's going great. I've walked, I've barreamped, I've worked out from home, and today, well today I haven't made up my mind yet... It's either going to be zumba, or yoga, or speed-walking around town. Who knows. The day is young.
This morning, in search of some exercise inspiration, I searched, "workout motivation" on
pinterest
and found this picture. Her name is Ernestine Shepherd and she is 75 years old.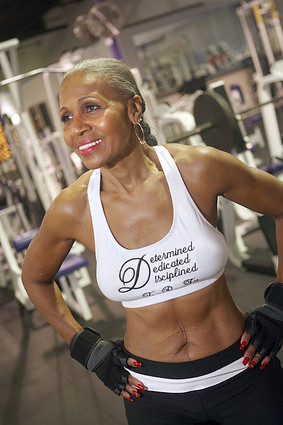 I now believe all things are possible.
Want to know what's even more amazing than her outrageous abs? The fact that she didn't even start working out until she was in her late 50's. According to her website, "

As a 56-year-old she was a sedentary, well-padded school secretary and "slug" who had never worked out a day in her life." Want to know more? Watch this 3 minute video. I'm in absolute awe.
Wooohoo!!! I'm officially motivated. Off to go drink a protein shake and get "Day 4- Workout" checked off my list!
Mae