Where to begin…
It's been beautiful, hard, scary (really scary at times), exhausting, and exhilerating.


Let's start with the beautiful. Last Saturday, I got to pick up Abiella from the orphanage. My mom and I waited in the director's office quietly when all of a sudden a woman walked in with my precious bundle wrapped up in a blanket. I ran over, grabbed her, and Abiella started smiling immediately. I swear she recognized me. I held her for a long time, playing, and laughing (while remaining paperwork was filled out by the director.) I then handed Abi over to her "Nonny" (my mom's grandmother name) and the two of them met for the first time (so awesome to watch). Administration finished the paperwork quickly and then all of a sudden , they said, "Okay, you can go" and before I knew it I was walking Abiella out of those orphanage doors for the last time. I couldn't get her out of there fast enough.


We then got in the car and headed back to the hotel. There were two more little boys in the car who were being adopted soon and working with our POA to get their visa medicals. They were very quiet but as I held and played with Abiella I told the boys they would love America. They perked up when I told them about how they could go to school there. As gospel music played on the radio, the lyrics "It's God's timing… It's your time for a miracle" were blaring through the speakers. As I held my precious baby, saw my mom watching from the front seat, and felt the car rumble far away from the orphanage I thought I was going to lose it. Abi was finally in my custody and the song coming through the speakers could not have been more poignant.
30 minutes later we were back to the hotel and when we stepped out of the car into the sun Abiella squealed. (For a child who rarely makes a peep, this was an amazing time for her to share a shrill of excitement. My mom and I laughed at how perfect the timing was. Again, I swear she knew she was finally out of the orphanage for good.) For the rest of the night we gave her rice cereal (instead of porridge, in an attempt to begin transitioning her diet) and played. A fellow guest "auntie" here, assisted in showing how she assumed Abi had been fed at the orphanage (since they wouldn't show us.) It worked and she ate it up. She was beyond happy and throwing her head back and even giggling. In addition, that night, my POA's assistant came and brought Abi's passport!!!! (A piece that could have taken weeks to get was received IN ONE DAY!) Unbelievable. The blessings were pouring in.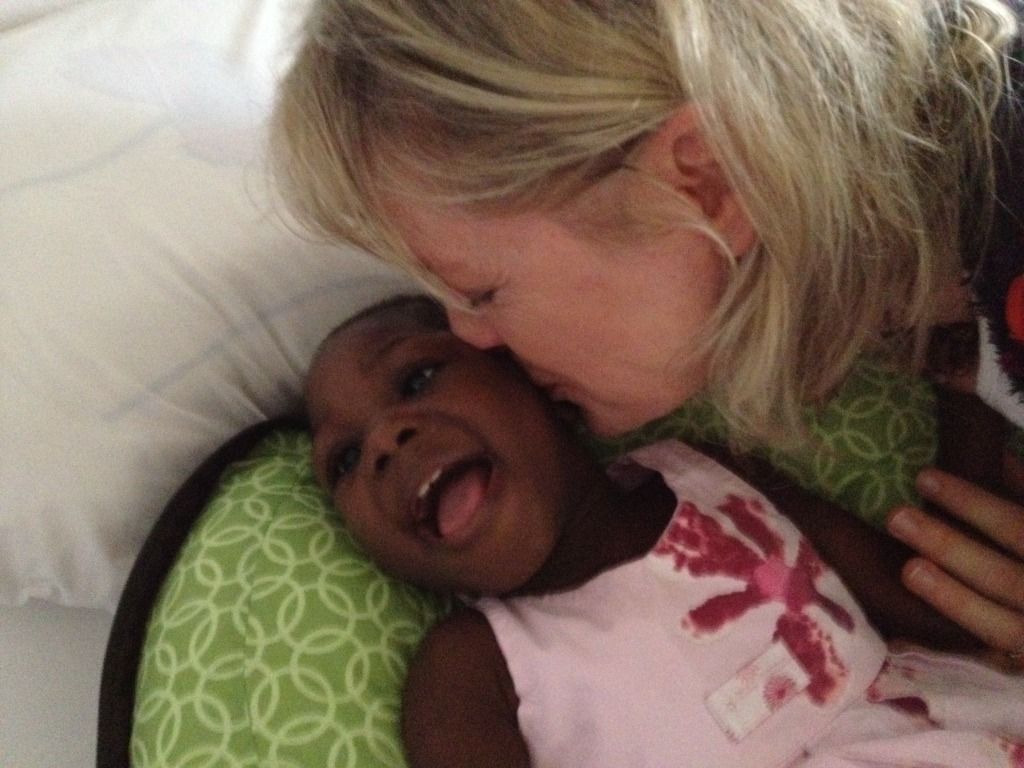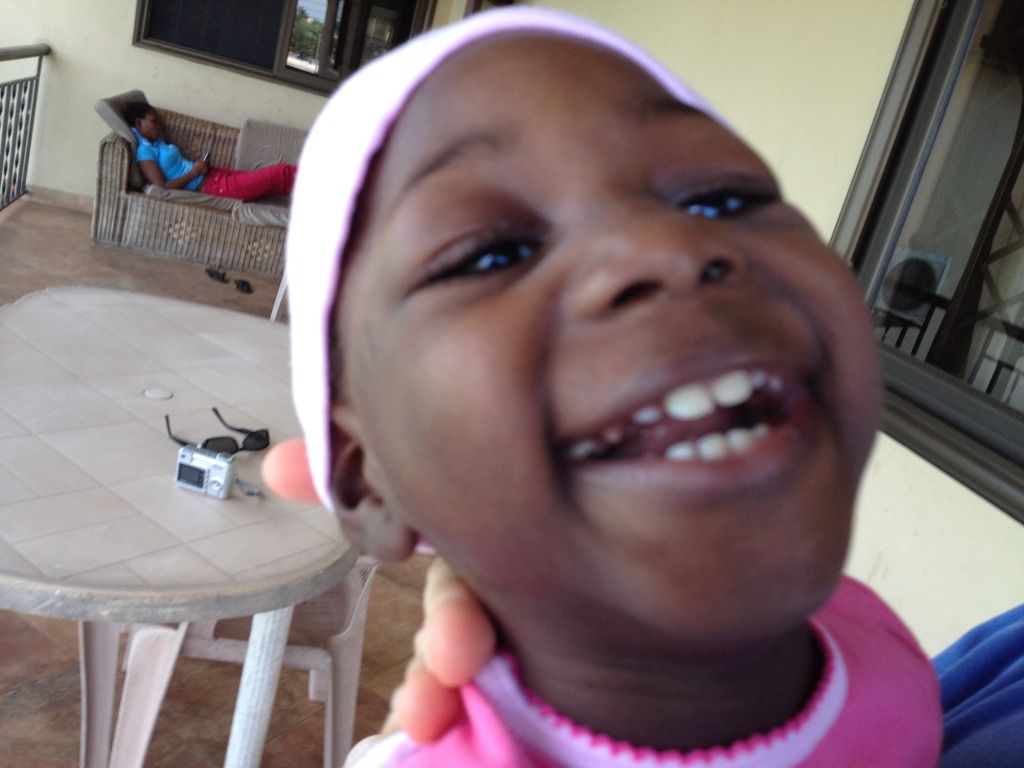 We had a reasonably good night's sleep… (Me, Nonny, and baby sleeping in a double bed) and then the hard stuff came in. The next day Abi started crying…a lot. For the sake of not writing a novel, (and not reliving those terrifying moments) I can summarize with this: 4 trips to the pharmacy, 2 rounds of constipation, incessant heart burn, possibly a stomach ulcer, and serious aspirating.
In the midst of one of her fits, out of nowhere a foster father who lives a 15 minute taxi ride away (whom we had hoped Abi would get to stay with months ago) heard we were at the guest house and decided to come introduce himself to us and, "Thank us for loving Ghana's children." (Unbelievable soul.) The timing of his surprise arrival couldn't have been more miraculous. I looked down from the communal porch and there he was walking through the gate. I recognized him from pictures and ran to him, "Paul!!!!" He sat with us for an hour, visiting, listening to Abi's cries and then he held Abi and stood up with me and prayed for her. Just miraculous. He then told me he would check with us in the morning and send his wife to treat her if she wasn't feeling better. The next day, she wasn't feeling better... in fact, she felt so bad that at first glance his wife thought she had malaria! BUT she didn't have a fever (at least not a high one) so the ultimate consensus was digestive issues. So for 4 days Paul and his family assisted us in treating Abiella. His wife came every day (sometimes twice a day to bring her home-made porridge and we are now trying to transition her to American food more slowly). In addition to her raging stomach problems she was suffering from a debilitating cold.
For 5 days she was almost always constipated and in
severe
pain. On the worst day, Paul's wife came over and suggested that we take our treatment to the next level... a traditional "pump." (enema.) She explained that the procedure had been passed down from grandfather to grandfather. I was desperate and completely out of resources. Abi was in so much pain and we had exhausted all of our Western Medicine resources. She had received milk of magnesia, cramp water, cough meds for a cold, lacutose, 4 trips to the pharmacy and everything I had brought from home… Nothing was working and since I trusted these people with my own life,
and
they had fostered two of my friends' own babies I decided their advice was the best choice and said,"Yes, let's do it."
So that night, Paul sent his son (10 years old) to come get us from the hotel and take us to their home. Upon arrival, 16 children Paul is fostering at his incredible home greeted us, women smiled warmly as food was being cooked over a fire outside, and we were invited through the screen door and inside the home. As my mom sat with Abi, Paul encouraged me to come outside to watch and learn how they were preparing the traditional African "pump."
Step by step, they taught me how how to grind leaves and ginger on a rock, make it into a pudding consistency, strain with warm water, and then use it as an enema.
Before giving it to her, Paul had all the other children leave the room and told us, "We are waiting for the grandmother to come in and pray. We are Christians and we ask God to intervene in everything we do. So we always pray first." I thanked them for this. Moments later an absolutely stunning African woman walked in, sat down, and began praying. The prayer was powerful. It was in a language I didn't understand but I felt connected. This amazing woman screamed a prayer to the heavens and when it was done we all said, "AMEN" and then they began the procedure. Within 20 minutes Abi was feeling better (and cleaned out.) They bathed her (showed me how they bathe their African babies) and then they fed her. Before we left the grandmother held Abi one more time and we all stood up, put our hands in the air and the grandmother prayed again. This time she started with a song. It was beautiful and powerful. One of the most incredible and loving experiences of my life. I've never felt so loved by those whom I had only met days before. The place radiated with the love of God. As Paul said it, "The second you walk into my home you are family. You are my sister and she is our baby."
Despite my pure joy that Abi was acting like her old happy self, by the end of the experience I was feeling feverish… but I didn't want to alarm anyone so I thanked them profusely and quickly got in a cab once the boys got us one. They escorted us back to the hotel.
When I got to the hotel I collapsed on the bed and just cried. So much to handle and so little resources. I was so thankful for these angels that God had sent into my life. I thought the worse was over (Abi was asleep immediately) and I went to bed. But the next morning, I woke up with a fever of 102 and a crazy sore throat. Of course, my first fear was malaria… but I didn't think it would be accompanied by a soar throat. Throughout the day the fever came and went. So while I was sick as a dog, my mom got up, took care of Abi, and sure enough an hour later Abi was screaming in pain again. (Don't you know the hotel loves us??) This is when I decided it might be acid reflux or an ulcer. She's NOT a fussy baby, you know that when she's crying she's in SERIOUS pain. So helpless. So the angels (Paul and his family) returned and helped us treat her. AGAIN. This time, no enema... just a lot of holding and rocking and speaking to her.


Meanwhile, on the paperwork front, I took Abi to my I-600 meeting on Wednesday and she did great. No crying! (She LOVES the car and loud music...which is perfect since mama does too :) At the end of the interview, when I asked a time frame for approval the woman said, "60 Days" I then proceeded to BEG them to expedite… I told them I was staying in a hotel with Abiella until she could come home and that we had SERIOUS health concerns. I followed up with an email describing our situation (a few other amazing folks wrote them on our behalf too) and guess what?! Less than 48 hours later I had a notice of approval in my inbox!!!! No 60 days here!

Then I emailed the Visa department (our next and final step) explaining the emergency we were in regarding Abi's health and 30 minutes later THEY CALLED THE HOTEL MANAGER looking for me! They said they would try to expedite too. So they have a meeting with my POA on Tuesday morning and possibly our exit interview Tuesday afternoon. (Please pray we get the that interview Tuesday afternoon and immediate visa approval.) I don't want to wait any more days for a visa stamp. Soooo we've had many miracles (Praise God! And many heartaches… But God's getting us in and out of them. )


Please pray!!! Please pray for Abi's stomach issues to cease until we can admit her into American health care. Please pray for a peace and for us to enjoy these remaining days in her beautiful country. Please pray for the visa to go swiftly.
Update: (I wrote the above portion a few days ago... but was unable to upload due to lack of power at the hotel.) The past two days have been much better!!! Abi's stomach pains are a little more manageable and thanks to all the help (
ESPECIALLY
my amazing mother) we seem to have hit a groove. Today she was laughing when she ate and even giggling when I tickled her neck. She looks MUCH heavier, healthier, and happier and life is looking brighter... Please continue to pray for success in this area as we're still unsure of the cause, but we think it is acid reflux, swallowing more air than usual (due to her swallowing issues) and stress due to an immediate change in the amount of stimulation she got. Even good stress can cause your bowels to change... any of you can't go to the bathroom when you're on vacation? That kind of thing. :)
All this to say, we're doing well, eager to get home, and loving every single second Abi is happy, healthy, and becoming more and more like her old self. Praise Jesus!!!!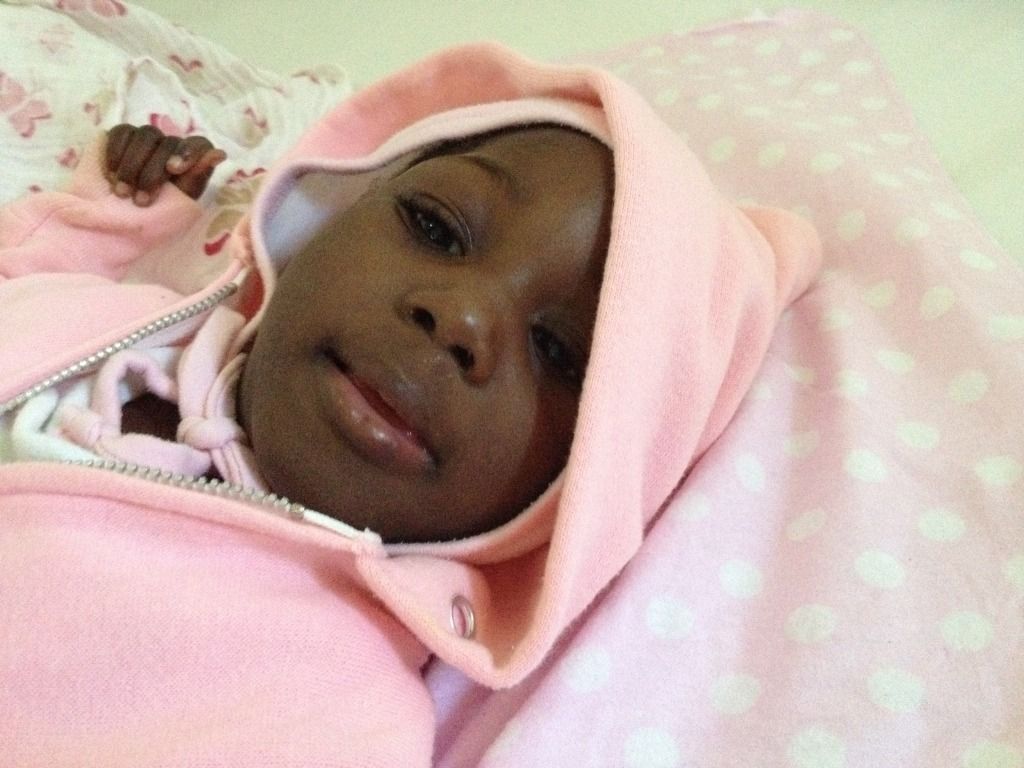 Also- My beautiful sister Lindsay got married yesterday and Abi and I celebrated the big occasion from Africa :) Here I am in my bridesmaid dress toasting Lindsay and Ben from the terrace of our hotel :) Woohoo!!! Cheers to Lindsay and Ben!!!! Love you Sister and Brother!
Sidenote: Despite the fact Abi looks like she's crying here, she was really squealing b/c a bus had just honked it's horn and she loves loud noises.
Phew- that was long...
God bless- over and out from across the ocean.
mary susan